Where's Waldo details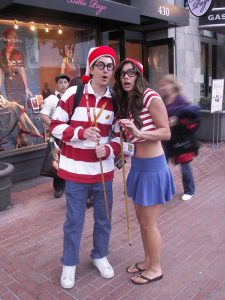 We wanted a fun, easy flash mob before the holidays, and who doesn't love Where's Waldo? All you need to do is dress up as a character you might see in a Waldo picture and join us!
When: Saturday, December 10th, 2:45pm
Where: CityScape in Phoenix (map)
Meet at: CityScape Starbucks
Light Rail: CityScape is right next to the Central/Washington or Jefferson/1st Ave stops
Parking: If you're driving down, there should be plenty of parking downtown on the weekend.
Facebook Event: Right here (Please share!)
Other Importantish Info
Meet at the CityScape Starbucks (west side of CityScape) at 2:45 to get organized. We will start the flash mob at 3:00.
Be creative, but don't dress exactly like Waldo. A Waldo will be provided.
Bring something to do, like read a book, play catch, etc. There is an open courtyard at CityScape, lots of steps, and places to sit/stand. The CitySkate ice-skating rink will be open if you want to do that.
CityScape is free to get into, but there is a fee if you want to skate.
We may head over to Angel's Trumpet Ale House for a drink afterwards. This is entirely optional.
See you tomorrow!
No Pants Light Rail Ride date is set
Also, we have a date for the 8th No Pants Light Rail Ride! It'll be January 8th. We're still working out all the details, but you can RSVP on the No Pants Facebook Event if you want to keep up to date.
Cheers!
~ The Improv AZ Team