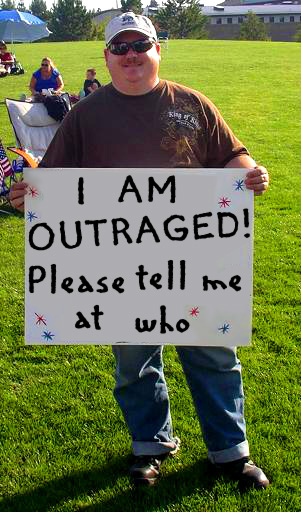 UPDATED: Location information now posted below!
People protest all sorts of serious things, and we think it is about time we protested something utterly and totally ridiculous. Or even many utterly ridiculous things!
We are having a fake protest where a group gathers with signs (BYO sign) but all the signs have nothing to do with any of the other signs. We are NOT protesting anything serious or political. All the signs should be purposely silly, so leave any real grumbling about immigration, same-sex marriage, and all that at home!
Instead let your creativity shine and come up with something that is funny, irrelevant, and will make people wonder just what the heck is going on!
Examples of Good Slogans for Signs:
I Hate Signs
Down with Sunshine
Math is Sexy
Han Shot First
Jill Pushed Jack
Save Ferris
I'm Lost
Honk if Elvis Lives
Get the idea?
Date: Saturday, April 9th
Time: 1pm – 1:30pm
Location: We will be doing this at 20th St and Camelback. Park by the Best Buy on the SW corner, and meet in the parking lot near the Comerica Bank with your signs around 12:50 for a quick briefing. Depending on how many show up, we may split up and tackle different corners.
Since we're going to be on street corner, our signs need to be big with clear lettering. It would be best to use 22"x28" or 24"x36" poster board for your sign – available at Walgreens, Michaels, or an office supply store.
If you're on Facebook, you can RSVP for the Fake Protest flash mob event and share it with your friends!
If you have any ideas for slogans or questions about whether your slogan is appropriate, please share them as comments below.