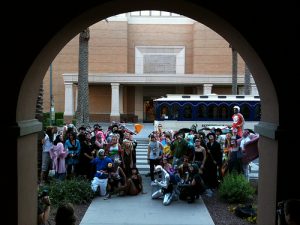 Several weeks of planning and strategizing culminated in a fantastic event, when the forces of justice and villainy met near Scottsdale Fashion Square Mall on a hot June evening for a battle that was truly epic. In conjunction with another local group, AZ Cacophony Society, the plan was hatched in early May and the call went out to gauge interest in the idea. Since the response was a resounding "Yes, we want in on this!", we quickly moved on to the strategizing phase while directing our followers to get started on their costumes. The date was chosen and a scouting mission was done to devise a battle plan that would draw public attention while (hopefully) limiting any security intervention.
On the day of the event, the respective groups began to form up when a snag was encountered. Mall security approached the Heroes and stated that several mall policies prohibited the group from entering. Luckily, cool heads prevailed on both sides and with just a few modifications to the plan, the Heroes were allowed to proceed through the mall to meet the Villains on the other side.
As you can imagine, the sight of two large groups of costumed individuals garnered quite a bit of attention as each made their way to the battle site, a large street corner in full view of all passers by. The Heroes arrived first and took the high ground (as Heroes often do), taunting the Villains who were forced to wait for traffic. Once the Villains reached the area, all manner of mayhem broke out with water soaker guns employed to full effect. Most of the participants were very into character, pairing up with each other for mock fisticuffs and other shenanigans. A few of my favorite characters were Musical Theater Girl and her jazz-hands of justice, Dark Elvis with his menacing patch of removable chest hair, Couch Potato with his "hang back and let others fight" stance and The Zombie who wandered through the crowd oozing on his foes.
As the battle wound down the group posed for photographs and then headed off to reminisce on the event at one of the nearby watering holes. Within minutes of the event's completion, a hilarious video of the battle was uploaded to YouTube:
And here is a shorter compilation of the event, complete with dramatic soundtrack!
There's also a growing set of amazing pictures on Flickr, and in the Facebook event! Tag yourself and comment away!