There's a lot of anger and frustration out there, so we thought it would be nice to remind people that they are beautiful and the world is also filled with lots of love. So last Saturday, 60 amazing people braved the Phoenix heat to share some joy with unsuspecting drivers with our first Love and Compliments Rally!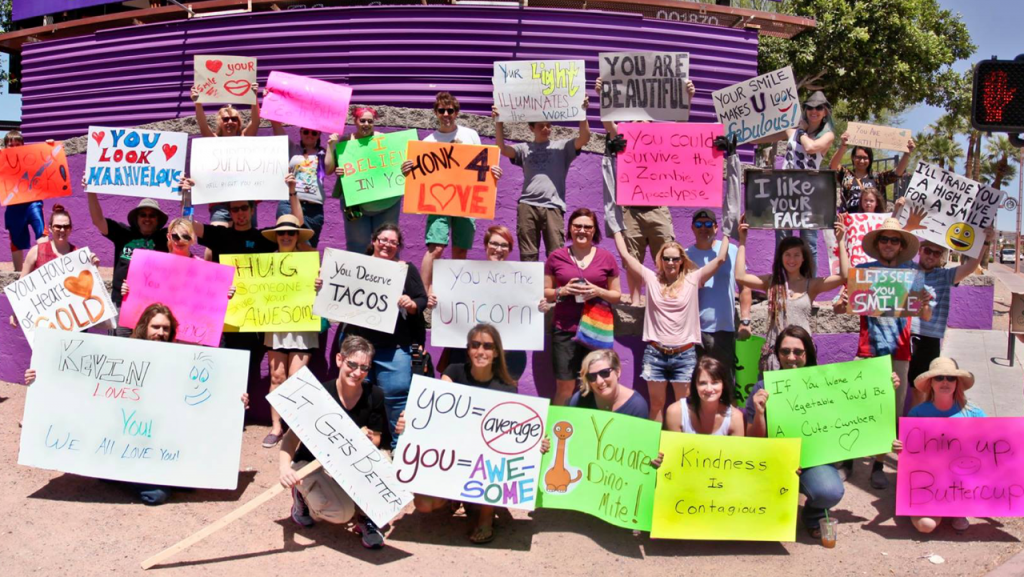 We made signs created to make people smile and they drove through the intersection at Central Avenue and Indian School Road. Here were some of our favorites:
I like your face.

You deserve tacos.

You could survive the zombie apocalypse.

You are beautiful.

Kevin loves you.

Honk 4 love.
This event had nothing to do with politics or any causes, and not even sarcasm. We just wanted to let people know how much they are loved, and that they all help make the world a better place.
People loved the love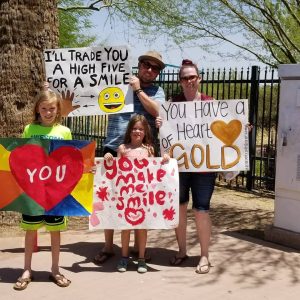 We stood at the intersection for about 45 minutes, getting lots of honks, smiles, and waves from cars. The best was an older couple where the wife in the passenger seat was nudging her husband the driver to honk the horn, and when he refused, she reached over and did it herself. They were adorable.
Toward the end of the rally, a car pulled up next to us. It was people from Kneaders Bakery and Cafe. They had extra box meals from an event they supported that morning, and they wanted to give us the leftovers to share some love for us. We happily took their leftovers and shared most of them with the homeless people in the area.
Check out just a few of the great pictures in our Facebook album.
We will do it again
Special thanks to everyone who ventured out into the blazing sun to share some love with us. We'll definitely do this again.
If you want to join us, make sure you sign up for our email list so you don't miss it!
You are beautiful!