Hundreds of people suited up to drop their pants at the 9th Annual No Pants Light Rail Ride! On Sunday, January 8, 2017, we boarded the train, starting at platforms all over the valley, and headed to central Phoenix sans pants.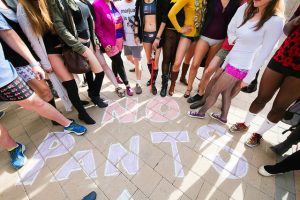 We had two main groups gather near the east and west ends of the rail line. As the pantsless crowd gathered, drivers started slowing down to stare, gawk, and honk their horns. Some waiting in the left turn lane got out their phones to take pictures. At the airport starting point, one person offered to get their friend to bring the group pants while an airport employee dropped trou for a quick photo with the pantsless group before scuttling back to work.
As we boarded the trains, we got the standard reactions: shocked looks, giggles, and the occasional scowl. One person asked a pantsless rider what was going on, and she responded with, "I was hot and I convinced all these people to take their pants off too." The panted man looked down at his own shorts, as to consider joining in himself, before deciding otherwise. Some people seemed completely unphased by our band of pantslessness. Perhaps we've been doing this so long that it's become "normal."
We disembarked at the Roosevelt station and took our parade of legs to Angel Trumpet Ale House, which is always happy to have our pantsless patronage. We shared stories and took pictures over drinks and snacks before taking our group photo and heading back from whence we came. It was a fun time had by all . . . well most of us at least. The scowlers never like us.
Thank you to everyone who came out for the No Pants Light Rail, and especially to Angels Trumpet for hosting us. Be sure to check out the photos from this year's ride of Flickr.
We heard some people missed the announcement for this year's ride. (You missed a fun time.) To make sure that doesn't happen again, we've already created a Facebook event for the 2018 No Pants Ride. We won't know the official date until next fall, but if you add yourself, you'll definitely be kept in the loop.
Make sure you're on our mailing list to stay in the loop on our next flash mob and all our shenanigans.
The No Pants Light Rail Ride is part of global No Pants Subway Ride, founded by Improv Everywhere.