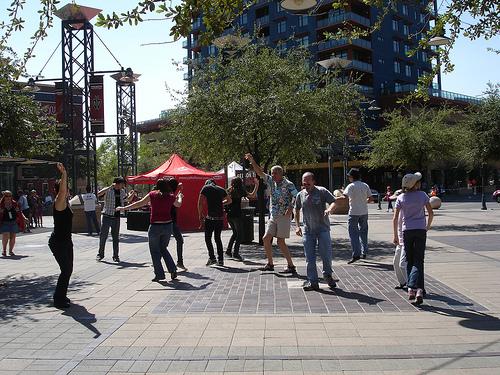 The Arizona Diamondbacks had their last home game of the season on Sunday, September 27th, and Improv AZ decided to joyfully celebrate with the fans.  With the weather starting to cool down, it seems liked a good reason to bring the Improv AZ group together.  We decided to throw a Silent Rave.
It was a sunny and sticky Sunday afternoon when I met with our new videographer.  This event was a last-minute idea, so I had not scouted the area in advance.  We scoured the courtyard and found a suitable open area for dancing next to Sliders restaurant.  It was an appropriate area for gleeful gyrations. 
And then we waited.  I saw a few familiar faces with anticipatory smiles from past events amongst the sea of red-shirted Diamondbacks fans. 
At 12:45 our group of approximately fifteen people spontaneously started to dance.  We received a number of bewildered looks from Diamondbacks fans, some who stopped to take pictures.  Apparently the host at Sliders encouraged our tomfoolery over the loudspeaker.  I couldn't hear him because we were having so much fun.   Although our event was a silent rave, we had the music of Sliders to dance to; however I don't think it had a negative impact on the absurdity of the event.
At 12:47, the alarm on my phone went off.  I gave the ending signal and we dispersed.  Some of us headed into the game and the rest disappeared into the surrounding crowd.           
There are some good pictures from the event on Flickr.  We were working with a new videographer for this event.  I'm hoping the footage will be up soon.   If you were there and have photos or video from the event, please post them with the tags ImprovAZ and SilentRave.