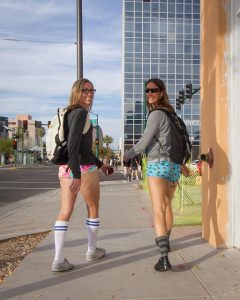 We're back! Mark your calendars and drop your trousers. It's time to get ready for No Pants 2016!
The 8th Annual Phoenix No Pants Light Rail Ride will be on Sunday, January 10, 2016. (Geez – we've been doing this for 8 years!) This ride is done in conjunction with Improv Everywhere's No Pants Subway Ride and other No Pants Rides that will be going on all over the world that day. Make sure you've subscribed to our mailing list and RSVPed on the Facebook event.
We will be zipping across the valley sans pants on the Valley Metro Light Rail that afternoon and meeting at a central location. We may have some new starting locations this year and other surprises. We've been scouting some possibilities and we'll give you more information as the day gets closer!
Remember, the rules are very simple:
NO WALLFLOWERS! Everyone who shows up must take off their pants. (This includes the media.)
You must have your googly bits covered at all times. We don't want anyone to get a ticket for indecent exposure.
Follow the rules of the light rail.
We hope you're as excited as we are about the 2016 Ride. Be sure to keep your eyes peeled for awesome undies as you're finishing your holiday shopping. Stay tuned for more information! The best ways to stay in the loop is to subscribe to our mailing list and RSVP on the Facebook event.
Need inspiration? Check out the photos from our previous No Pants Light Rail Rides: http://bit.ly/1IQLroT .