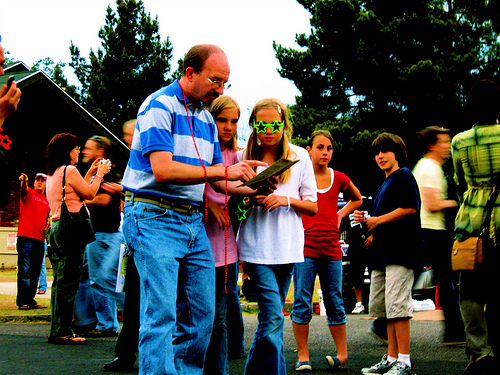 May Day in Phoenix; and what better way to celebrate the beginning of the long hot summer than a group freeze in the midst of Phoenix's First Friday festivities.
Sometime after 6:30 p.m. groups of revelers, approximately 40 in total, converged at the intersection of 5th St and E Garfield, mingled in with the crowds of patrons, artists and passerby's, inconspicuously waiting. At about 6:50 p.m. balloons were released to the sky signaling the group members to hold that pose and hold it and hold it some more.
A few people were frozen checking their cell phones, or reading a map. I froze in the process of being fed a scoop of ice cream, which dribbled into a mess on the ground. One person froze tying his shoe, and another froze in mid marriage proposal. Definitely lots of creativity in the poses and participants!
Soon crowds gathered; some shocked, some confused, some awed, all mostly amused, to witness the event.
In the true pagan spirit of the holiday, members of the AZ Cacophony Society captivated the crowd by decorating the freeze participants with beads, starry sunglasses, makeup and even making an impromptu human May Pole with streamers.
Then, as suddenly as it began and not a moment too soon for those in pose, it was over at the sound of what could be described as an asthmatic air horn. Everyone quickly dispersed to enjoy the rest of their usual First Friday experience.
Several people have posted videos on YouTube, including alacritae, ballergrlHeather, and this one from RelGirl8:
Victorianladyaz1 was one the freezers, and left the video camera on the whole time. Watch this video to check out the curious people walking around and trying to figure out what was going on.
We have one more "official" video coming, and will post that as soon as it is ready.
There are also some nice pictures showing up in Flickr. Be sure to use the tags "improvaz" and "phxfreeze" on Flickr so we can find them.
If you were part of the First Friday Freeze or witnessed it firsthand, post your thoughts in the comments below!  If you want to get involved in future pranks or flashmobs, keep checking this blog or join our Facebook page.