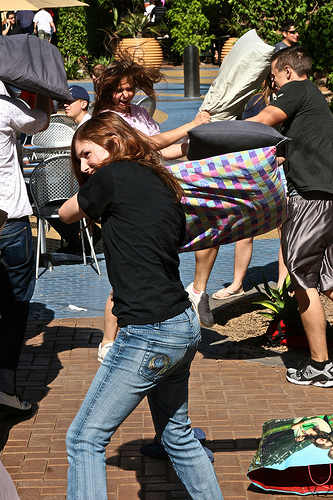 A flashmob hit the Tempe Marketplace to participate in International Pillow Fight Day! About 60 people showed up, and it was a blast.
Rumor was as many as 300 people were thinking about coming, so the original plan was to just spread out all across the mall. Things were supposed to start at 3:00, and a few minutes beforehand you could see people walking around with overly fat shopping bags and a knowing look in their eyes. Realizing there weren't as many people coming, people began scouting around in quest of other possible pillow fighters.
Right before 3:00, people started to gather in front of Dave & Busters, sizing each other up and identifying their victims. At 3:00… everyone looked at each other, then whipped out their pillows!  It was ON!
People laughed and swung their pillows while baffled shoppers hustled away to make sure they got nowhere near the goofiness. The fight went on for about a minute before mall security showed up and asked everyone to break it up. The fighting stopped, but there was still untapped pillow aggression in the air.
A few minutes later dispersed group started new fights by the mall stage and down by the Harkins' Theaters.  New people arrived who had missed the first fight and things got larger and crazier. The new fights went on for several minutes before mall security returned in force and told everyone to leave.
Check out the great pictures on Flickr! If you want to add your own, use the tag "azpillowfight" (and "improvaz" if you're extra-special!)
It was short, but a lot of fun. Hopefully the next one won't be on private property so it won't get shut down so fast. It was another good flashmob, and they Valley is on track to growing a great flashmob community!
If you were at the Pillow Fight, post your thoughts in the comments below!  If you want to get involved in future flashmobs, watch this blog or join our Facebook page!