The overnight freeze warnings did not deter our 350+ participants from dropping their pants at the 5th annual No Pants Light Rail Ride. This event is part of the Global No Pants Subway Ride, which was started by Improv Everywhere in 2002.
A balanced mix of newbies and veteran pantsless riders braved the cold and started the ride from three different locations. This was the first year we had groups switch trains mid-ride. Every time a group disembarked and boarded a new train, they ended up on a train with another group of pantsless people from our group – talk about awesome timing!
We had our usual reactions from people who were shocked and surprised by the display of legs around them. Our group did an excellent job of maintaining the front that we weren't part of a larger event but that it was just a coincidence we all forgot to put on pants that day. There were a few pantsed people who were frustrated that they couldn't figure out what was going on, and some even made disparaging remarks to our groups' captains. They didn't understand that nothing they could say would make us put on pants or feel bad about rocking our undies in public!
We also had at least five people who didn't start the ride with the group drop their pants and join in the fun. We love growing the group as we roll across town.
One interesting thing to note – the group that started from the west side encountered light rail security at back-to-back stops. They said they were there to do random ticket checks, but we're pretty sure they wanted to check out everyone's underwear.
After all the riding and changing trains, our group met up at Angels Trumpet Ale House, a great place in Phoenix for craft beer and having fun. We had a blast mingling, sharing stories, and taking pictures for over an hour before dispersing. Some people stayed at Angels Trumpet while others moved on to other downtown establishments and the rest of us hopped back on the rail and headed for home.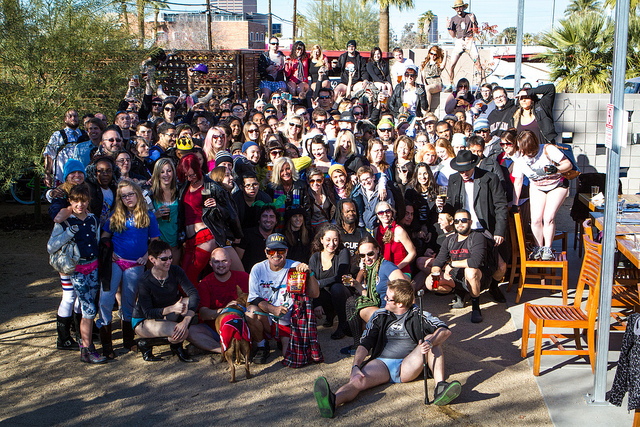 Kudos to the photographers from Phoenix New Times, College Times and AZ Central who dropped their pants and were not obtrusive in their coverage like we ask (check out their photos!). Sadly, other news outlets weren't quite so considerate, and seemed a little surprised when we told them to get lost. You've got a whole year before next time to get some nice underwear and more discrete cameras, guys – get on it!
Behold, the most excellent video from the ride!
Thanks to everyone who helped make this event a huge success and a special thank you to Angels Trumpet Ale House for hosting us. Please check out the photos from the 2013 No Pants Light Rail Ride on Flickr and subscribe to our YouTube channel so you get videos on future pranks and flash mobs.
If you want to stay in the loop about our future shenanigans, including our secret flash mobs and pranks, be sure to subscribe to our newsletter.